Spectrum Analyzer x12 - Spektrumanalysator x12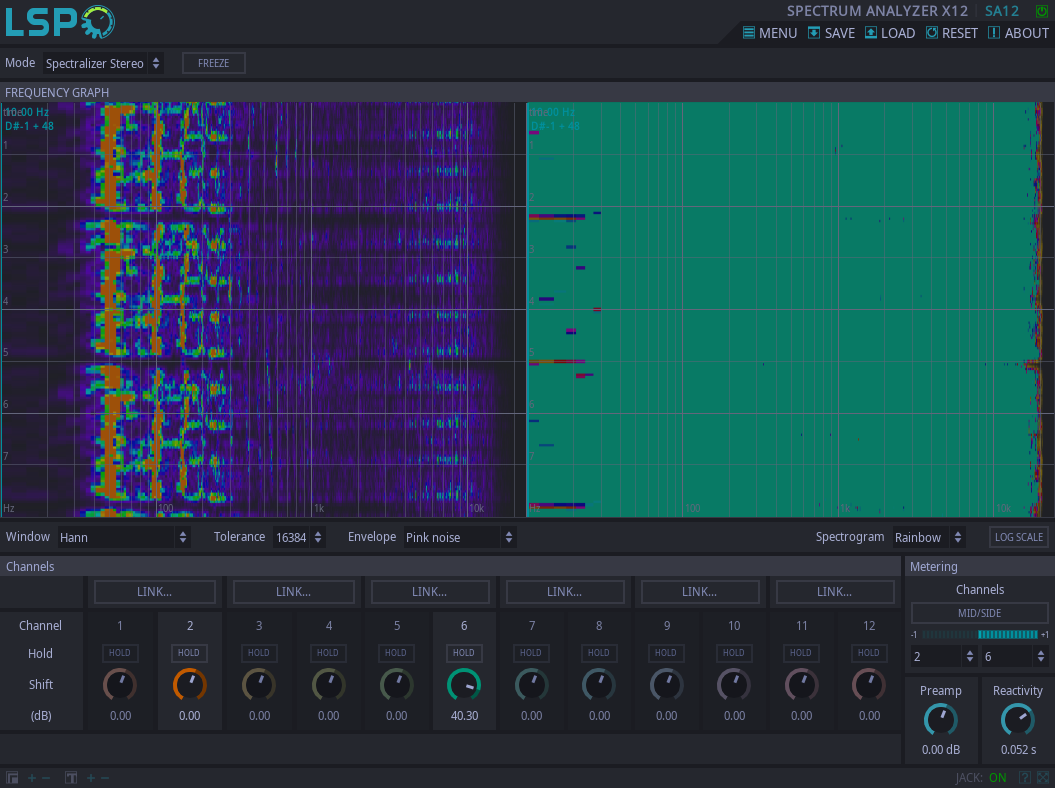 Detailed: LSP Spektrumanalysator x12 – Spectrum Analyzer x12 (SA12)
Formats: LADSPA, LV2, LinuxVST, JACK
Categories: Analyser, Utility, Spectral
Developer: Vladimir Sadovnikov
Description:
This plugin performs spectral analysis of 12 independent channels simultaneously. It does not affect any changes on the input signal, so can be placed anywhere where the metering is needed.
Controls:
Bypass - bypass switch, when turned on (led indicator is shining), the plugin does not work.
On - turns on the analysis of the channel.
Solo - allows to individually inspect the corresponding channel.
Hold - forces the frequency graph of the channel to freeze.
Hue - allows to adjust the color (hue) of the channel.
Shift - allows to adjust the gain of the channel.
Preamp - allows to adjust the overall gain of the analysis.
Channel - allows to select the channel for level metering.
Selector - allows to select the available frequency for level metering.
Reactivity - the reactivity (smoothness) of the spectral analysis.
Level - the level of the selected frequency.
Window - the window applied to the audio data before processing.
Tolerance - the number of points for the FFT (Fast Fourier Transform) analysis.
Envelope - the envelope compensation of the signal.
Zoom - zoom fader, allows to adjust zoom on the frequency chart.
Meters:
Frequency - the current frequency selected by Selector control.
Level - the level of the selected Frequency for the channel specified by Channel control.